Oxford station expansion plans fast-tracked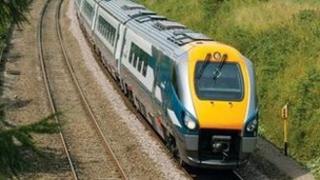 First Great Western has fast-tracked plans to expand Oxford station following the announcement of the government's £9bn railway investment.
In a statement welcoming the news a spokesman said it hoped to have "fairly detailed plans and options available for review later this year."
Oxford sits on the proposed "electric spine" linking Yorkshire and the West Midlands to south coast ports.
By 2019 electric trains will be able to go from Oxford to Birmingham.
Elements of the East West Rail Link which starts in Oxford were already outlined by the chancellor in 2011.
'Fantastic news'
The new announcement confirms the western section will get the go ahead with the additional news the line from Oxford to Bedford will be electrified.
Peter Hardy, chairman of the East West Rail Consortium Joint Delivery Board said: "This is fantastic news for the towns and cities that East West Rail will serve.
"In providing direct links between growth areas, East West Rail will allow for more sustained economic development for these communities, creating up to 12,000 jobs and increasing opportunities for businesses to invest."
A First Great Western spokesman said: "With the re-opening of the route to Bletchley and the east the station will become one with far more passenger interchange between trains and platform and building facilities will have to be suitable for this role.
"Detailed track and signalling arrangements are well into the development phase."
Building work on the rail projects as a result of the £9bn investment will not start until at least 2014, as the announcement covers the period 2014 to 2019.