Oxford Cowley Road community supermarket opens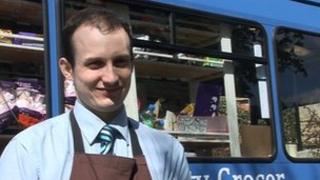 A supermarket owned and run by local people has opened in Oxford.
The People's Supermarket (TPS) has been set up by greengrocer Chris Waites, who was inspired by a Channel 4 series of the same name.
The store, in Cowley Road, will be run by local volunteers who will work shifts in return for a 20% discount on purchases.
Deputy Lord Mayor of Oxford Mohammed Abbasi was on hand to conduct the opening ceremony earlier.
Local produce
Mr Waites got the idea for the shop from The People's Supermarket television series which followed restaurateur Arthur Potts Dawson setting up a business in central London.
He said: "It's a really exciting venture.
"Seeing all the hard work that's been put in by volunteers in the lead up to the opening has made it extremely rewarding.
"We believe we are offering a really viable alternative to the big supermarkets and with the lower prices we're selling our groceries at, we feel it's a no-brainer."
About 500 volunteers from the community own shares in the non-profit organisation which will aim to offer locally-sourced produce whenever possible and at a lower price.
After bills and rent are paid, any profit will be ploughed into community projects.
Members must pay a £12 fee to purchase a share and commit to volunteer four hours every four weeks.