Oxford ring road improvements get council approval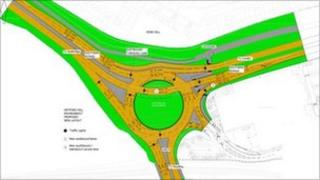 Two junctions on Oxford's ring road are to be upgraded in a £2.9m scheme to ease congestion.
Oxfordshire County Council has approved plans for Kennington roundabout and Hinksey Hill interchange on Oxford's southern bypass.
Kennington roundabout will become a "hamburger" style similar to the one on the A40 at Headington and Heyford Hill.
The Hinksey Hill interchange will get a dedicated slip-lane for southbound traffic onto the A34.
Oxfordshire County Council's Cabinet Member for Transport Rodney Rose said: "The improvements at Heyford Hill have already made a significant impact on traffic problems affecting the southern bypass, but that's just one piece of the puzzle.
"The proposed scheme for Kennington and Hinksey Hill is aimed at making a real difference to journey times and tackling congestion as a whole on the southern bypass."