Oxford city centre sign points in wrong direction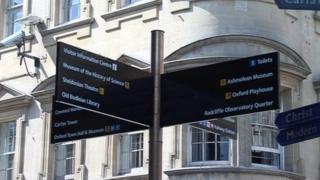 An Oxford city centre sign that is pointing the wrong way "may have caused confusion", a council worker admitted.
The fingerpost sign was installed pointing 90 degrees in the wrong direction at the junction of Cornmarket Street and Ship Street.
Gordon Reid, the city centre manager, said it was a mistake and that installers would try to correct the sign on Thursday.
The council is in the process of installing 70 new signs.
Mr Reid added: "We are in the process of designing new pedestrian information signs, informing our visitors what to see, where to see it and how to get there.
"They should also be helpful to locals, indicating the full range of attractions in Oxford."
Popular attractions that were indicated incorrectly on the sign included the Ashmolean Museum, which dates back to the 17th Century, and the Sheldonian Theatre, designed by Christopher Wren.
Oxford receives on average nine million visitors per year.