Great Western Main Line structures get protected status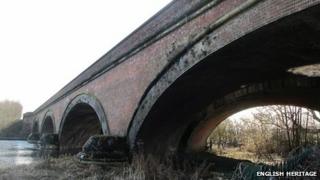 Six railway structures in Oxfordshire have been given protected status after an English Heritage consultation.
They are all located along the Great Western Main Line which was designed by Isambard Kingdom Brunel.
Amongst the structures protected is Moulsford Viaduct in south Oxfordshire, which has been upgraded from Grade II to Grade II*.
English Heritage described it as "one of the most impressive and imposing structures on the route".
Roger Orchard, operations manager at Didcot Railway Centre, said the bridge was "as good as gold".
"It's 175 years old and is still going strong. It definitely deserves a place in history," he said.
"All the bridges Brunel designed deserve that status because they were pioneers."
'Beautiful carvings'
Thame Lane Bridge, Silly Bridge, Bourton Church Bridge, Bourton Bridge and Culham Station Overbridge are now Grade II listed.
Civil engineer Richard Antliff has a particular fondness for the overbridge.
He said: "Its parapet stones had lettering carved into them by the students of the nearby ecclesiastical college.
"It had a strict 19th Century regime and they would only have a couple of hours to go for a walk and carve their initials and names into the stones.
"They are beautiful carvings and block lettering which makes it a little bit special."
There are now more than 100 listed structures along the Great Western route.
It was authorised by an Act of Parliament in 1835, which permitted the construction of a line from London to Bristol.
The Oxford branch, completed in 1844, and the Berks and Hants Line, completed in 1847, were added next.
Heritage minister John Penrose said: "Our railways and the historic buildings that go along with them are a wonderful and emotive part of our national heritage, symbolising for many of us a sense of romance, history and adventure.
"I am very pleased to be able to give these buildings, bridges and tunnels the extra protection that listing provides."