Near-miss at RAF Norton leads to air traffic control change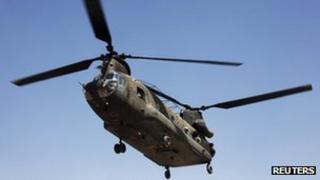 A near-miss between an airliner and a military helicopter at RAF Brize Norton has led to changes in air traffic control at the Oxfordshire airbase.
The A300 airbus had just taken off from RAF Brize Norton in November last year, when it had to take action to avoid a Chinook helicopter, waiting to land.
Air controllers will no longer use the terminology "climb out" after it was misunderstood by the civilian crew.
The MOD is reviewing its helicopters' automated onboard warning systems.