Mongewell expansion plans opposed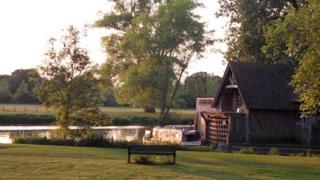 Plans to quadruple the size of an Oxfordshire village by turning an old Jewish college into more than 160 homes have been opposed by residents.
Carmel College in Mongewell Park, near Wallingford, could be transformed into 166 apartments, along with a restaurant, cafe and a swimming pool.
The small village of Mongewell currently only has about 50 households.
About 40 residents held a meeting on Monday. They claim to be concerned about local roads becoming overloaded.
Residents have until 8 August to register their objections.
Jewish boarding school
Fiona Thompson, who lives in Mongewell, said: "The roads are very small, narrow little country lanes and we have residents' houses that open almost straight on to the roads.
"It would be devastating for our community if the development went ahead in the state that [the plans are] in now."
Arnold Grayson, chairman of the Wallingford district of the Campaign to Protect Rural England, said: "It is not a suitable site to build so many homes here in the Chilterns Area of Outstanding Natural Beauty (AONB) and indeed the Ridgeway runs right past the proposed site.
"To top it all, South Oxfordshire District Council's own policy guidelines state that they do not want new buildings to extend beyond the existing built-up areas within the AONB, which this proposal clearly does."
Mongewell Manor House was a military hospital during World War I and an RAF base during World War II.
Between 1948 and 1997 it housed Carmel College, thought to have been Europe's only Jewish boarding school.
Plans to redevelop the site for housing were first announced in 2007.
Developer Comer Homes has not yet responded to the comments.
South Oxfordshire District Council said it was "early days" for the application, which was likely to be referred to the planning committee for a final decision.