Dance a la Plage and Athletes in Paris headline Upstairs Oxford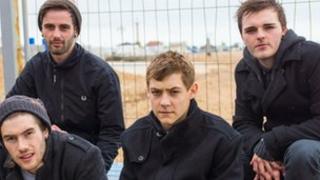 Five up and coming bands will take centre stage at the O2 Academy for the next Upstairs Oxford gig in association with BBC Introducing.
Fast rising Banbury band Dance a la Plage headline the 11 August show which also features Athletes in Paris, Colour Change for Camouflage, Ego Trip, and Traps.
Singer and guitarist Joe Hamilton said his band were "so excited" to be topping the latest monthly event.
"To be asked to headline it has really blown us away," he said.
The feel-good indie-popsters have been drawing capacity audiences at AKA in their home town of Banbury but are now spreading their net across the county.
Dance a la Plage released their debut EP in June. The name translates as "dancing towards the beach", though none of the band actually speak French.
Joe said: "We'd class our sound in the alternative pop genre but we'd say that the band have almost two different sounds - we have our fast pacey stuff but then instead of having sad songs we have a chilled out side.
"People can expect to hear all the tunes from our debut EP plus brand new material that we've been working on and will be recording towards the end of August."
'Geordie Katy Perry'
Main support comes from Tyneside pop band Athletes in Paris, already championed as 2012's breakthrough act by 6 Music's Tom Robinson.
Drowned in Sound described them as akin to a male, Geordie Katy Perry, fronting Friendly Fires.
Percussionist Mark "Mooch" Richardson said it was "danceable, energetic, upbeat pop music played with guitars not synths, courtesy of five lads from the North East who just want everyone to have a good time".
He added: "If the weather's up to much then at least one, if not all of us, will be taking off our trousers on stage - you can forget about sweating it out, trying to be cool.
"We're honoured to be playing to a new crowd in a new town, and you know it's going to be good if BBC Introducing are involved - we love them."
Colour Change for Camouflage formed at the Witchwood School of Rock in Shipton-under-Wychwood.
The connection landed them a jam alongside members of Guns 'n' Roses at the school and a gig at Alex James Presents Harvest festival.
Guitarist Easy Chalmers said his band was about "positive vibrations, love, and a smidgen of beach pop for good measure".
He added: "We hope people feel comfortable enough to dance without feeling self conscious."
The bill is completed with more upbeat indie from Ego Trip and female fronted rock piece Traps.
Every month a selection of local talent play the regular band nights at the O2 Academy, with highlights featured on BBC Radio Oxford's Introducing programme.