Injured man found in petrol smelling house in Didcot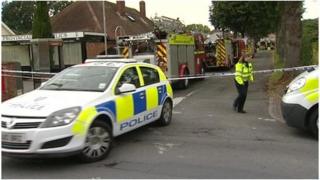 A 51-year-old man is in a critical condition in hospital after suffering head injuries in an assault at a house in Oxfordshire.
Police and an ambulance were called by another resident to the property in Park Close in Didcot in the morning.
Fire crews were called after officers noticed a strong smell of petrol, leading to fears of an explosion.
The road was shut for several hours and residents were advised to stay in their houses with doors and windows closed.
Police have appealed for anyone who saw suspicious activity in the area, or who knows how the man was injured, to get in touch.
No properties have been evacuated.
Det Insp John Turner said: "The investigation into this incident is at a very early stage, and we have not established how the man came to be injured, however we are treating it as an assault at this time."