Row over Oxford reading scheme spending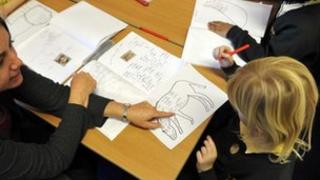 An education boss has criticised Oxford City Council's plans for a new reading scheme.
Melinda Tilley, Oxfordshire County Council cabinet member for education, said the city council's proposals should be co-ordinated with their own.
The county council's £500,000 plans are to improve basic learning at 80 schools. The city council is targeting 10 schools with a different programme.
A city council spokesman said its £1.4m five-year plan was "complementary".
He added: "There is a joint commitment to improving educational attainment in the city.
"Councillor Bob Price, leader of Oxford City Council, has gone on public record as supporting the county council education improvement strategy.
"We are at an early stage with developing the programme and it will be interesting to see if schools choose to take the city funded programme up."
Ms Tilley said: "We're happy that the city council is putting money into work to improve reading standards but would very much prefer if this was being done in a co-ordinated way with us as Oxfordshire's education authority."
'More investment'
Oxfordshire County Council's project involves using 500 volunteers to give extra one-to-one tuition at the schools which have been identified as having the biggest problems.
City council plans include helping with housing costs for newly recruited teachers, supporting teachers with improving reading in schools and supporting head teachers with leadership development.
The spokesman said: "The scheme is complementary to the county programme and means more schools will get investment."
In 2011 Oxford had the worst performing primary schools in England for reading, writing and maths.
Oxford education expert Prof John Howson said: "It's great that money is coming from both sources but they should work together and not in opposition.
"Education is a county responsibility and the county has failed parts of the city so it's not surprising that they felt they had to do something about it."