World Grand Masters hockey tournament hosted in Oxford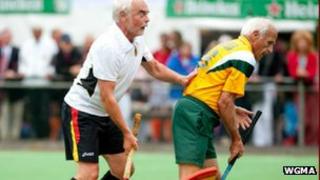 A hockey world cup for the 60s and over is being officially opened in the UK.
Oxford is the host city for the The World Grand Masters tournament, in which 14 teams will play in 120 matches over 10 days, from Wednesday.
Alan Armitage, lord mayor of Oxford, said it would highlight the "often overlooked involvement and contribution made to sport by older people".
The games are taking place at the Oxford Hawks Hockey Club and the Dragon School.
Previous hosts of the competition, held every two years, have been Kuala Lumpur, Athens, Leverkusen, Hong Kong and Cape Town.
Mr Armitage, who is opening the games at 17:00 BST, said: "It's a delight to share our beautiful city with visitors from across the world and I hope the players all enjoy their stay and get the opportunity to experience what Oxford has to offer."
England will be defending titles in the three age divisions of 60+, 65+ and 70+, which it clinched in South Africa in 2010.
Richard Clarke, secretary to the organising committee, said: "The enthusiasm and camaraderie generated by the World Cup from such an older age group is a great tribute to the the love of hockey worldwide, and many friendships are renewed or made.
"The skills and fitness of the players participating sets a standard to us all, and shows that hockey is indeed a lifetime sport."