Clough Williams-Ellis building Larkbeare faces demolition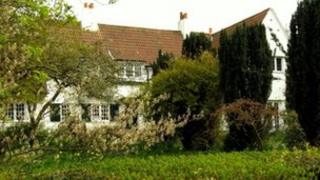 The grandson of a renowned architect says plans to demolish one of his buildings would be an insult.
Larkbeare, in Cumnor, Oxfordshire, was built in 1905 by Clough Williams-Ellis, famous for the construction of Portmeirion village in Wales.
His grandson Robin Llywelyn, who now manages the village, said the demolition plan should be rejected.
But developers, Bewley Homes, said Larkbeare was a poor example of a highly acclaimed architect's work.
The company's land director Andrew Brooks said: "We don't believe it is a building that warrants listed status but we will await the outcome of an inspection by English Heritage."
The developer wants to build 21 homes on the grounds of the Edwardian building which was built in 1905.
Mr Llywelyn said of Larkbeare: "This would be a very early example of my grandfather's work.
"His career started in 1904 and he continued working until his mid-90s
"As well as the buildings he also landscaped the sites and believed in the two working together, so it just adds insult to injury that it is to be torn down to create the very thing that he was fighting against."
'A travesty'
A spokesman for The Victorian Society, which preserves historic buildings said: "The building is a particularly fine heritage asset. It was designed by a major architect sensitive to local building style.
"Its replacement with a generic housing scheme is not just a waste but a travesty."
Vale of White Horse District said the planning application had been put on hold while it waited to hear the results of a survey by English Heritage on whether the building should be listed.