US challenge for man with Parkinson's Alex Flynn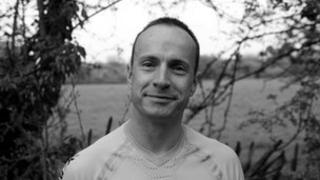 A man from Oxfordshire diagnosed with an incurable disease of the central nervous system is planning to run, ride and kayak across the US.
When Alex Flynn, 40, from Henley-on-Thames found he had Parkinson's disease in 2008 he pledged to run 10 million metres to raise £1m for charity.
As part of his endeavours he had always planned to traverse the USA.
He said an offer from Michael J Fox's Foundation for Parkinson's Research to make this trip had "coincided nicely".
Since the father-of-three was diagnosed with the degenerative condition, he has run across the Sahara Desert and travelled from London to Rome, where he met the Pope.
"It's [Parkinson's] picked the wrong guy," he said.
'Make it'
His forthcoming challenge will see him climbing 14,400ft (4,389m) up Mount Whitney, the highest mountain in the US outside Alaska.
He will also run 135 miles (217km) across Death Valley and Kayak more than 250 miles (402km) across Lake Erie.
The adventure will end with a run down Broadway in New York and a swim to the Statue of Liberty.
Mr Flynn's motivation is to help fund research and make people realise Parkinson's disease is a condition that affects young and old alike.
The US challenge in September and October will account for more than half of his target, which he aims to complete by 2014.
"Come hell or high water I'm going to make it," he said.