The young faces of Victorian crime at Oxford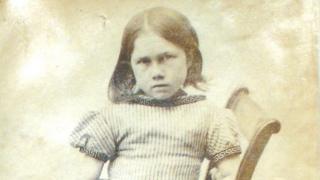 Julia Ann Crumpling was just seven when she was sentenced to seven days' hard labour at Oxford prison in 1870.
She had stolen a pram from a Mr and Mrs Edmund Smith of Witney, who had left it outside while going into a shop.
Scullery maid Annie Sherbourne spotted Julia with the pram and is most likely the one who turned the infant in, said Joseph Harthorn, Oxford Castle Unlocked duty manager.
The permanent museum exhibition, which is housed in the former castle and prison site, features Julia's photo among many recently uncovered pictures of other young criminals.
Mr Harthorn said: "We like to try and sympathise with her, but she might have been an absolute tearaway".
He added Julia would have been in jail on her own without any family, although she was placed in the B Wing of the prison that housed women and teenagers.
She would have got one change of clothes a week and one bath, and most likely would have worked in the prison laundry.
The more usual hard labour included turning a Capstan wheel for eight hours a day to drive water into the tanks at Oxford's St George's Tower.
Julia's punishment would have been at the judge's discretion.
"It was their idea of a slap on the wrist", said Mr Harthorn.
Julia is certainly the youngest convicted criminal museum researchers have come across.
Children in their early teens were more common.
Robert Hall was 13 when he was sentenced to 14 days in prison for stealing a leather strap. Similarly 15-year-old Benjamin Gardner got 21 days for stealing a leather strap.
"It's likely he effectively wanted to bling himself up," said Mr Harthorn of Benjamin. "Someone stealing trainers nowadays might get a similar sentence".
Mr Harthorn said the research team discovered the mugshots at Cowley Record Office.
"We'd heard about some of the sentences but we hadn't always managed to put a face to the crimes," he said.
"Suddenly you're connecting with these people. It gives you a jolt".