St Edward's School unveils concert hall plans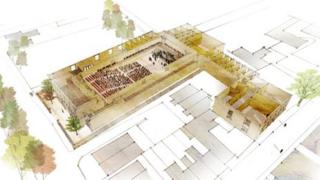 Plans for a £10m 1,000-seat concert venue in Oxford have been unveiled by an independent school.
The St Edward's School scheme for the Woodstock Road could result in the biggest concert hall in the city.
Stephen Jones, the school warden, said: "The size of the project is hugely ambitious. It would be a big and significant Oxford building."
An Oxfordshire County Council spokesman said it would be "an ideal place for our young people to perform".
He added: "It would bring the kind of facility to Oxford that many people have wanted for years.
"The music service has many musical groups that play in a wide range of venues across the county."
Construction on the venue may not begin until 2019 as the site is occupied by a restaurant and radio station.
The school aims to build it through "very serious fundraising" and make it available for non-school performances as well.
A spokesman for the school added: "We know from talking to people in music that there is a great desire for a large purpose-built hall comfortable for the audience and performers.
"We look forward to welcoming the best orchestras in the world. We also have our own orchestras, choirs, jazz bands, and big bands."
Tim Ronalds Architects have been commissioned to design the facility.
St Edward's School will also build a £6m music school in summer 2014.
The 17th Century Sheldonian Theatre, designed by Christopher Wren, currently holds many of the orchestral performances in Oxford.
It has a typical capacity of 800 seats.