Ex-gymnast's trauma inspires artworks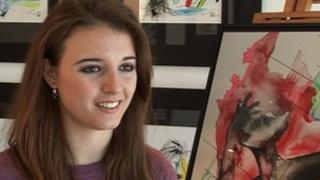 The "traumatic" experience of being a gymnast has inspired an art student in Oxfordshire to paint abstract watercolours celebrating body shapes.
Amber-Lauren Ballantyne-Styles, 17, from Garsington, was part of an acrobatic trio who became British Champions and won silver at the European Championships in Holland in 2007.
But amid claims of bullying about her weight she quit the sport and fell into a pattern of binge eating.
She said: "I wanted to go in the opposite direction and almost rebel in a way.
"It had been a sad and horrible time of my life when I should have been allowed to enjoy my success and be happy."
Amber wants her art to help other young girls "embrace curves and all-round beauty".
Night terrors
At the height of her gymnastics success Amber was 5'7", had a healthy BMI (body mass index) of 20 and was a size eight.
Despite this she claims she was continually bombarded with derogatory comments which led to frequent night terrors and sleepwalking.
"She went from a happy kid to one who was regularly bawling her eyes out," said her mother Cherry.
Amber said: "At the age of 11 to 13 being told you're fat is not exactly a confidence boost. Everything but.
"So that really triggered something in my head and it was a real horrible thing at the time, but I'm glad I've been able to move past that and [art] has definitely helped me."
Mary George, from Beat, an organisation that supports people affected by eating disorders, said athletes involved in "appearance sports" like gymnastics were among the most likely to be affected.
She added: "Although anorexia nervosa is the most known eating disorder there is, however, much more prevalent and far less obvious disorders that regularly plague athletes. These include bulimia nervosa and binge eating.
"Often these disorders are well concealed and the symptoms are mistaken as athletic burnout."
A British Gymnastics spokesman said: "Gymnastics has been identified as a potential high risk sport for eating disorders and we have liaised closely with specialist centres in Loughborough and Swansea to provide support to our gymnasts."
'True inspiration'
Amber, who gained a triple distinction for her diploma in Art & Design at Oxford & Cherwell Valley College, has painted more than 30 pieces in the past two months.
She said: "They have the cinched-in waist... obviously that's how we were.
"I wanted to really exaggerate it as well, and not just do the odd little curve here, but make it big and really go for it."
Cherry Ballantyne, added: "We were so proud when Amber stepped onto the rostrum to receive her medals and trophies, but little did we realise this would jeopardise her health.
"We are so thankful for Amber's dedication and maturity and as well as being a true inspiration for other young girls and women."
Amber said: "I've always aspired to be an artist. It's the result of something negative being turned into something positive.
"It's made me think of my own body in a different way, it's helped me get away from what girls always think about these days.
"I think we should go back to good old times when curves were the thing. The message is to embrace your natural form."