Oxford signs defaced by 'parking cheats'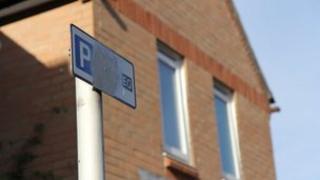 About 100 kerbside signs have been defaced in Oxford during the last year, it has been revealed.
St Clements councillor Graham Jones said "Resident Only" signs were being vandalised so traders working in the area could park with impunity.
He said over the last week, "parking cheats" had vandalised six signs on three adjacent streets in his ward.
He added: "It's a scandal that has gone unnoticed."
Each sign costs about £60 to replace, and a council spokesman confirmed that if there was an issue with signage on a street it would "not undertake parking enforcement until the problem has been rectified".
Resident Denise Clegg said it was already a "nightmare" to park in the area.
She added: "I suppose it's a sign of the times, there are many houses now that have more than one car."