Bicester Community Hospital approved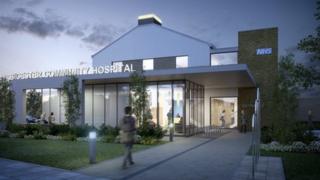 Plans to build a £5m community hospital in an Oxfordshire town have been approved.
Cherwell District councillors voted unanimously in favour of replacing Bicester's current hospital with the up-to-date facility.
Lynn Pratt, councillor for Bicester South, said: "This is what Bicester has needed for so many years... it's wonderful news."
Construction begins in January 2013 with the hospital opening early 2014.
The community hospital will be built behind the Victorian cottage hospital that currently serves the town.
'Talk of the town'
The original building will be demolished to make way for a small housing development of 14 properties.
Riana Relihan, the project director for the new hospital at Oxfordshire Primary Care Trust, said: "The approval is testament to the hard work by the whole team and is wonderful news for residents of Bicester."
Ms Pratt added: "I've lived in Bicester for 15 years and the need for a new hospital has always been the talk of the town.
"It's been doing a superb job in a building not fit for purpose in this day and age.
"It has served the people of Bicester well but we're a growing town and we're not going to stand still."
Richard Coe, senior development manager at property developers Kajima, said he was "delighted" by the council's decision.
"The new hospital will take approximately a year to complete and demolition of the existing hospital and final landscaping will follow... house building can then progress throughout 2014."