MP Nicola Blackwood answers boy's letter to clean up dog mess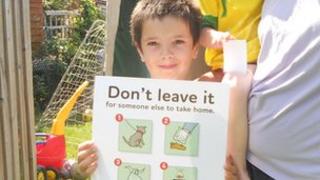 A seven-year-old boy is able to play football in his local park again after asking his MP to sort out the dog mess.
Wardens cleaned up the affected area in Abingdon after John Claridge-Alder wrote to Nicola Blackwood, MP for Oxford West and Abingdon.
Warning signs were also put up at the site, which is next to the Abbey Fishponds nature reserve.
John had been banned from playing in the area by his mother because of the mess.
His mother, Susan, said: "It was too messy and there were a few people just letting their dogs run around with no supervision at all and it's just too dangerous."
Ms Blackwood said: "This is just wonderful news and I'm so pleased for John.
"It is a real joy to hear from children and I never cease to be amazed by the common sense suggestions they put forward."
Vale of White Horse District Council said the area would now be "monitored regularly".
John said: "I felt sad because I couldn't come out and play with my friends. Now I can play on the field again."