Oxford city pedestrian system rolled out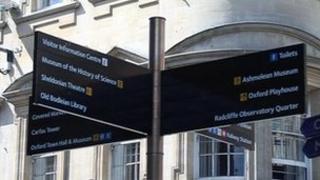 A pedestrian information system which uses mobile phone technology is up and running in Oxford.
The Oxford Explore system includes signs, maps and information panels which highlight attractions and guide visitors through the city.
It uses QR (quick response) codes and web addresses to connect people to content on their smartphones.
The system runs alongside a conventional website which users can access from home.
The scheme is a joint project between the city and county councils.
The first information "monoliths" were unveiled earlier this month in Queen Street and St Aldate's.
Pedestrians can now scan QR codes at information points to access video, audio, historic pictures and stories about the city's history, culture and architecture.
Ian Hudspeth, leader of Oxfordshire County Council, said: "Oxford's 9.5 million annual visitors are crucial to the health of our economy, however our ageing wayfinding system was no longer meeting their needs.
"To address this we looked to other cities with high visitor numbers - particularly London - for inspiration. The design solution we have developed draws on this inspiration but takes it to the next level technologically and is bespoke to Oxford."