Oxford Canal in Cherwell given conservation status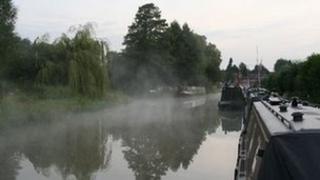 A stretch of the Oxford Canal has been designated a conservation area.
The new status offers greater protection for the 33-mile stretch through Cherwell in north Oxfordshire, owned by the Canal and River Trust.
Buildings, bridges and locks along the route will also be given better preservation protection by the new conservation status designation.
The move followed a consultation and a series of exhibitions for communities along or near the route.
Councillor Michael Gibbard, Cherwell District Council's lead member for planning, said the canal brought both visitors and revenue to the area.
He added: "The Oxford Canal is special in that it was built as economically as possible, following the natural contours, so wends its way through the attractive pastoral landscape of the Cherwell Valley.
"As well as identifying the boundary, the [conservation status] document highlights buildings and structures, such as bridges and locks, along the route that are of local interest."
The 78-mile (126km) long Oxford Canal runs from Oxford, through Banbury and Rugby to Conventry.