£13m Oxford Acute Vascular Imaging Centre opens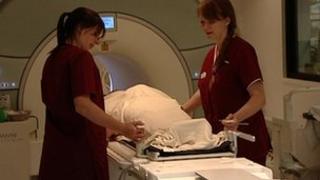 Early treatment of heart attacks and strokes is set to be improved at a new £13m research centre in Oxford.
The Oxford Acute Vascular Imaging Centre (AVIC) at the John Radcliffe Hospital uses the latest imaging and diagnostic technology on patients.
Treatment aims to be more specific and targeted for patients in the critical first 24 hours after a heart attack or stroke.
Doctors believe the set-up is internationally unique.
Following a successful pilot, the centre is expected to treat about 1,000 patients a year.
Professor Robin Choudhury, AVIC clinical director, said doctors would gain a greater understanding of the effects on a patient's heart or brain at the time of a heart attack or stroke.
He said: "Presently, we're informed as cardiologists in our treatment of a patient with some fairly rudimental tools.
"An electrocardiogram (ECG) gives you little idea of the extent of damage to a patient in the long-term.
Tailored treatment
"This is where the state-of-the-art imaging technologies available to us can help tailor a patient's ongoing treatment.
"We can identify the exact cause, the nature and extent of tissue damage and how likely heart tissue is to recover and repair itself."
The Oxford University research centre is attached to the John Radcliffe Hospital emergency department, meaning patients do not have to leave hospital to benefit from its technology.
AVIC has both a catheter lab and an MRI scanner separated by a set of hydraulic doors.
Rails in the floor allow patients to be transported smoothly between the two, rather than having to transport them between treatments on a trolley.