Queen given mathematical shape by Oxford professor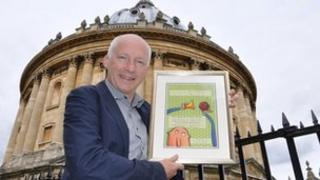 The Queen is to be presented with a mathematical shape by an Oxford University professor.
Professor Marcus du Sautoy has named a new symmetrical shape to honour the Queen's Diamond Jubilee.
The new shape encodes three numbers in its contours, 1952 - the year of the Queen's accession to the throne - 2012 and 60, the years she has reigned.
He will present the Queen with a certificate describing the Diamond Jubilee Group in mathematical language.
"Unlike bell towers, ocean liners and Olympic parks, this creation will stand the test of time because mathematical discoveries last forever," Prof du Sautoy said.