Oxfam granted Freedom of the City of Oxford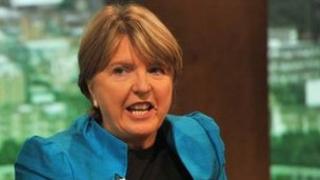 Oxford-based charity Oxfam has received the Freedom of the City.
Chief Executive Dame Barbara Stocking and Chair Karen Brown were presented with the honour by Lord Mayor Alan Armitage at Oxford Town Hall.
The council said it wanted to recognise the 70-year-old charity's achievements in Oxford and around the world.
Dame Barbara said: "Oxfam's heart is in Oxford and it is very special to be accepting the Freedom of the City on Oxfam's behalf."
'Very proud'
She added: "It is particularly meaningful to accept this honour in Oxfam's 70th year.
"The Oxford community has played such an important role throughout our past and I very much hope this will continue into the future.
"As part of a global movement for change, we can all create a world where everyone has enough to eat and extreme poverty is consigned to history."
Mr Armitage said: "Oxfam has made a huge difference to the lives of many millions of people across the world, during 70 years.
"We in Oxford can be very proud of the organisation's strong links with our city, and the unfailing support it has had from our citizens.
"This is a good time to demonstrate our appreciation by awarding Freedom of the City."
The charity, which was founded in 1942, has about 700 staff in Oxford, making it one of the city's biggest employers.
Oxfordshire has 20 Oxfam shops, including its first shop in Broad Street.
Dame Barbara, who has led the organisation since May 2001, has said she will step down in February 2013.
Individuals who have been awarded the Freedom of the City of Oxford include Sir Roger Bannister and Nelson Mandela.