Bicester development 'a major flooding concern'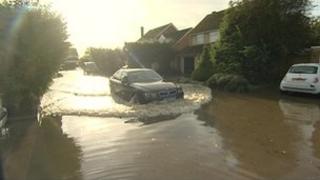 A proposed 10,000-home development and new ring-road in Oxfordshire could put a neighbouring village at risk of flooding, residents have claimed.
Houses in Wendlebury were left under water on 18 October when a brook burst its banks after 33mm (1.3 in) of rain fell in six hours.
Julian Cordy, from the parish council, said the works would "make the situation a lot worse".
Oxfordshire County Council said the proposal was still at a concept stage.
The road, which forms part of the Bicester Masterplan, would have to cross over the Wendlebury Brook.
'Exemplar eco-town'
Mr Cordy said: "Clearly when you put hundreds and thousands of tonnes of concrete and tarmac on to the ground nearby that cannot help, no matter what they try and tell you they're going to do in terms of drainage."
The council said the plans would make Bicester an "exemplar eco-town" over the next 20 years.
Of 10,300 new homes, 6,500 would be built by 2031 and a further 3,800 by 2040.
The Environment Agency said development in areas at risk of flooding "must be safe for the lifetime of the development".
A spokesperson said: "Wendlebury is at risk from the Wendlebury Brook and from surface water flooding.
"We are seeking funding to investigate if anything can be done to reduce flood risk in the Wendlebury (area)."