Oxford University students in soup kitchen protest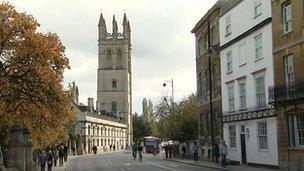 Students at Oxford University have been boycotting their canteen in protest against new meal charges.
Members of Magdalen's Junior Common Room have set up a soup kitchen and have been cooking for each other in an effort to avoid the college catering.
Students currently pay for their meals when they eat them but from 2013 new students will have to pay fixed catering charges.
The college said it was comparable with others in Oxford and Cambridge.
Students said the changes will put off those from poorer backgrounds.
Jonathan Gardener, a first year classics and English student at Magdalen, has been taking part in the two-week boycott, which started last Monday.
He said students already had to pay about £1,500 a term for their accommodation on top of the £9,000 tuition fees.
"I don't think that it's fair for the JCR [Junior Common Room] to take the burden of the financial responsibility," he added.
Magdalen College student James Carter said the charges would be difficult for him to pay.
"I won't be able to afford to go here without help from the college itself or from the university which could pose a problem and put off students from applying," he added.
A spokesman for the college said: "We remain fully committed to attracting and supporting the best students regardless of background.
"This is why we have appointed an outreach officer to encourage applications from under-represented groups, and why in the past year we gave out more than £330,000 in grants to help current students with their living and research costs."
Related Internet Links
The BBC is not responsible for the content of external sites.