Oxford mental health call centre fears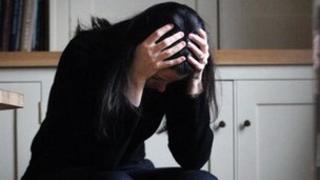 Mental health patients in Oxford have raised concerns about changes to phone services in the county.
Calls to the dedicated Community Acute Service (CAS), which helps people experiencing a mental health crisis, are now directed to a call centre outside office hours.
Oxford Health NHS Foundation Trust said it would mean patients could still get through when call volumes increased.
One patient said the loss of direct access was "going to cost lives".
'Another hurdle'
The trust said calls made to CAS were being diverted to the out of hours co-ordination centre between 17:00 and 09:00 on Monday to Thursday and from 17:00 on Fridays through to 09:00 on Mondays.
Patients needing urgent care would be transferred to a member of the CAS team while others with other non-urgent issues would be signposted to the "appropriate place".
Richard MacKenzie from Witney, who has bipolar disorder, said patients previously had 24-hour direct access to psychiatric professionals.
He said: "Going through another system just creates another hurdle for a person who needs to use the crisis team.
"People already have to summon up the courage to be able to phone the crisis team when they are suicidal in the first place."
Mr MacKenzie has set up a petition calling for the trust's chief executive to revoke the policy to give patients direct access to help.
'Positive feedback'
Alison Cobb, of mental health charity Mind, said similar changes had already been implemented in other parts of the country and, in one case, a patient had taken an overdose after being unable to get through to her usual source of help.
She said: "People aren't getting a response that is not just quick but also effective from someone who understands their situation."
A trust spokeswoman said: "Since these changes the trust has received positive feedback from patients, GPs and commissioners about the improved accessibility to the service and our CAS staff are able to dedicate all their time to those patients experiencing a mental health crisis.
"We will continue to monitor patients' experience when using our services and review arrangements as necessary."