Free parking in Cherwell council area during Christmas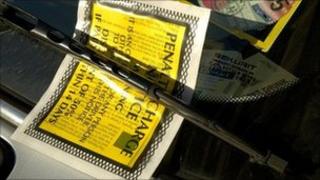 An Oxfordshire authority is to provide free parking over the Christmas period.
Cherwell District Council approved the plans on Monday evening for Saturdays, Sundays and Mondays from 1 December, for six weeks.
Councillor George Reynolds described the decision as a "Christmas present to the traders".
It will affect all council-owned and run car parks and does not include the Spiceball and Compton Road car parks in Banbury.
Mr Reynolds said shoppers would be restricted to the time limit set for each car park and that this would be enforced.
The town has car parks with one-hour, three-hour and all day parking restrictions, which will remain.
He added that pay machines would not accept money during the free parking days and that there would be increased signage.
"I have a horrible feeling there will be more notices than parking spaces," he said.
Earlier in the year Cherwell District Council refunded £11,600 worth of parking fines after The Local Government Ombudsman found it had failed to properly signpost new charges.