Kingston Bagpuize erects stone war memorial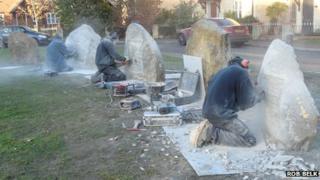 An Oxfordshire village has raised about £7,000 to build a stone war memorial to commemorate its citizens who died in conflict.
Rob Belk from Kingston Bagpuize led the effort after he realised the village did not have a proper monument.
The crescent of five stones is unusual because instead of listing the names alphabetically it lists the names in the order in which they died.
Mr Belk said when complete it would look "absolutely magnificent".
The limestone monoliths were dug up in the area during the construction of a bypass in the early 1990s.
They were originally erected as a henge-like structure. It became overgrown and fell into disrepair.
Mr Belk arranged for the stones to be moved into the village.
He said: "In 2009 and 2010 I was involved in a project to research the history of the 65 local men who died during the first and second world wars.
"I presented my research as a timeline. It told the story of their part in the wars and detailed where and when they were killed.
"It was from that I realised Kingston Bagpuize did not have a memorial - just a few plaques that were incomplete and incorrect.
"So we decided we needed a proper memorial and the two things just came together."
'Pause to remember'
Before Sunday's Remembrance Day service each stone will have an engraved slate name plaque.
The inscription on the first reads: "Let these stones forever give us pause to remember the men of this village who, for hundreds of years, have given their all for our freedoms.
"From Turkil and the men of Chingestune who died at Hastings on 14 October 1066 to local men and men from far away who gave their lives in two world wars and since.
"By these stones we will remember them."
The village is now hoping to raise more money to pay for three flagpoles at the memorial site.
Mr Belk is confident donors will be found and added: "When the people hear the stories of these men they become quite affected."