Overturned car transporter shuts M40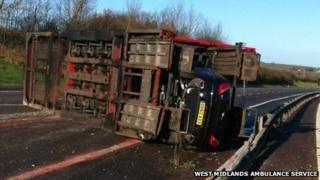 An overturned car transporter shut a stretch of motorway across Oxfordshire and Warwickshire.
The vehicle turned onto its side on the central barrier shortly before 10:00 GMT on Friday.
The motorway was closed northbound between Banbury and Gaydon for about six hours.
The outside lane southbound was also blocked causing long delays. One BBC Radio Oxford listener called it "an absolute nightmare".
Another driver, Robert Billing, was heading to Reading, and described a five mile queue of cars attempting to exit the motorway.
Singer Lucas Whitworth, from Oxford, was running late for a gig in Liverpool because of the gridlock.
He described the scene as "flooded fields and rather annoyed-looking people in neighbouring vehicles".