Oxford Stadium closure is tragic, says Andrew Smith MP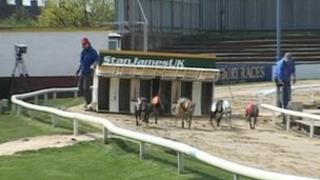 A decision to close a greyhound stadium after 73 years is an "absolute tragedy", an MP has said.
Staff at The Oxford Stadium, on Sandy Lane in Blackbird Leys, were informed on Friday afternoon that the last race would be staged on 29 December.
Oxford East Labour MP Andrew Smith said: "They've got a real battle with me because if I can do anything to save the stadium and the jobs I shall."
The owners of the stadium have yet to comment on the closure.
The venue recently stopped its Friday afternoon race meetings and hosted speedway until 2007.
'Overwhelming support'
Mr Smith added: "This is a very important sporting facility for Oxford, it's enjoyed by thousands of people.
"There are hundreds of jobs… directly or indirectly dependant on the stadium and for people to be losing their jobs at this time of year - at any time of year - is devastating."
He said there was "overwhelming support" in favour of keeping the stadium instead of using the land for housing.
He added: "It's not easy because there is a huge amount of money to be made by converting that site to housing, and I'm second to no one in wanting to see more affordable housing in Oxford, but we can't simply abandon every recreation facility.
"It does tear the heart out of the community."
Mick Wheble, who commentates on races at the stadium, said he was "gutted" to hear the news.
"We probably have 500 greyhounds and only half of them will be able to run at other tracks," he said.