Oxford floods: Environment Agency says defences cost £100m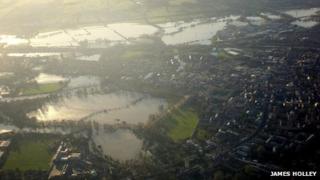 The Environment Agency has said it would have cost £100m to prevent an Oxfordshire road from flooding.
Abingdon Road in Oxford was closed northbound until Friday evening. Flood warnings remain in place for the River Thames and River Thame.
Residents across Oxfordshire have been clearing up following the flooding since Wednesday.
Rail services were disrupted on Thursday evening as flooding continued to cause disruption in Oxford.
The Environment Agency has revealed a flood defence scheme for Abingdon Road was considered after floods in 2003, but not deemed feasible.
Peter Collins, from the agency, said: "The solution that was drawn up then was seen as very expensive.
"With the current economic climate in mind, that's even more of a case than it was back then.
"The problem with the Abingdon Road is that it's harder to identify smaller pockets of work to do to which has obviously resulted in not much change for the area."
In Henley, BBC reporter Patrick O'Hagan said the picture was improving: "Water levels have dropped since Thursday morning and the flow of the river is definitely slower.
"Traffic is also improving and journeys through the area are certainly much better than earlier in the week."
Huge costs
Sue Staunton, business adviser at James Cowper accountants in Oxford, estimates the cost of the flooding in Oxfordshire alone could run in to "tens of millions of pounds", based on the experience of the 2007 floods.
She said the costs ranged from property damage to lost days at work and people not being able to visit shops and businesses in flooded areas.
A number of flood warnings remain for the South.
Oxfordshire County Council has given out more than 5,000 sandbags and said 15 homes had flooded in Oxfordshire over the past few days.