Mitchell Cole, ex-Oxford and Southend footballer, dies at 27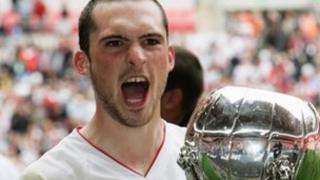 A footballer forced to retire from the professional game because of a heart condition has died aged 27.
Mitchell Cole, who played for Oxford United and Stevenage, gave up the game for good after seeing Bolton player Fabrice Muamba's on-pitch collapse.
Hundreds of fans have posted tribute messages on Twitter in response to the news.
The Football League also used the social networking site to pay tribute to the player.
"We are sad to hear former Southend, Stevenage and Oxford player Mitchell Cole has passed away," it said in a tweet.
"Our thoughts are with his family and friends."
Non-league appearances
The Professional Footballers' Association (PFA) joined the Football League in expressing their condolences.
"The PFA is deeply saddened by the loss of 27-year-old Mitchell Cole, our thoughts are with his friends and family," it posted on Twitter.
Despite retiring from the professional game last year, Cole did make a handful of non-league appearances, including for Arlesey Town.
However, according to their director of football, Gary King, watching Bolton midfielder Fabrice Muamba suffer a cardiac arrest on the pitch in an FA Cup tie with Tottenham in March convinced Cole to give up the game for good.
Mr King told Press Association Sport that after Cole watched the game in the clubhouse: "he turned to me and said 'I'm not playing again.'"
Cole was married to the sister of England international Joe Cole.