Inspector Morse manuscript fails to sell at auction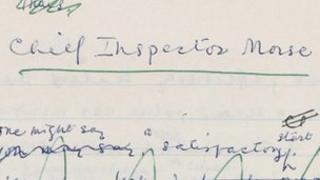 An original autographed manuscript by Oxfordshire author Colin Dexter of the first Inspector Morse novel has failed to sell at auction.
Sotheby's auctioneers expected bids of £30,000 to £50,000, but it failed to reach the private owner's reserve price in the London sale.
Handwritten in 1974 in ballpoint pen, he gave it to his friend, Ian Bradley at a pub in Lower Wolvercote.
The manuscript is inscribed: "To my good friend at The Trout."
The 280 page draft of Last Bus to Woodstock has handwritten revisions made by the author, including clue changes and story development notes.