First services held at Emmanuel Church in Bicester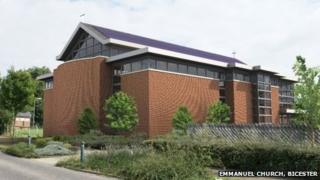 The inaugural services in the first Anglican church to be built in Oxfordshire this century have been held.
Churchgoers who previously had to travel to services in Oxford raised £1.85m for the new Emmanuel Church in Bicester.
The building will also host a debt counselling service and food bank.
The Reverend Ian Biscoe said the new building is a "great opportunity" for the local community.
"We'd really like to start supporting our neighbours. We have trained advisers to offer budgeting advice and debt support.
"Particularly at the moment there is a need for that and it is something we can offer," he added.
The new building, with capacity for 200 worshippers, has been completed four months ahead of schedule in time for Christmas services.
Congregation member Emma Hayton said: "We knew there was potential for a new building. It's fantastic, so many people have contributed so much that to see it open is really amazing."