Oxfordshire County Council bids to retain £6m link road money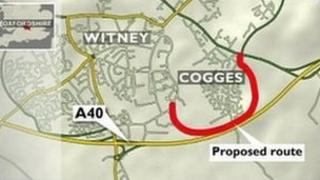 Oxfordshire County Council hopes to retain £6m of funding earmarked for a traffic alleviation scheme in Witney.
The funding was for an £18m Cogges Link Road scheme, paid for by developers in exchange for building housing estates in the town.
Contractually, £6m has to be returned if the money is not spent by January 2013 - but the scheme was rejected in June by the government.
The council hopes to negotiate with developers to spend the cash elsewhere.
The Cogges Link Road scheme was designed to alleviate congestion in Witney by diverting traffic through a country park and away from the A40.
But a government inspector had concerns over traffic noise and vibration, flooding and environmental impacts, and ruled land required for link road could not be bought under compulsory purchase legislation.
'Frustrating'
The then Secretary of State for Transport Justine Greening rejected the plans.
Oxfordshire County Council leader Ian Hudspeth hopes funding can be used for alternative congestion-easing plans for the town.
He said: "One of the most frustrating things about the decision is that we're in a situation now where we should be delivering the scheme.
"For reasons previously stated, we can't, so now we have to look at the alternatives."
Cogges Link Road was supposed to connect Oxford Hill to Witan Way, easing congestion on Bridge Street and reducing air pollution.
An alternative scheme could see a four-way junction built at Shaw's Green, including two new slip roads on to the A40.
Councillor Hudspeth added: "There are some land issues there, but we've got to try and negotiate with developers to get the money we did have to be used towards that proposal.
"We want it to move forward as quickly as possible as we're still not delivering traffic solutions for Witney."