Age UK Oxfordshire concerned about Oxfordshire County Council cuts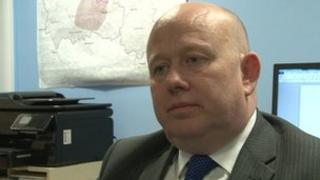 A charity has described further cuts to care services for vulnerable older people as a "very significant concern".
Oxfordshire County Council intends to cut £15m towards adult social care between 2013 and 2015 in addition to the £13m already planned.
Penny Thewlis, from Age UK Oxfordshire, said: "These are cuts on top of cuts to an increasingly older population."
Ian Hudspeth, leader of the Conservative-run council, said it had to take "tough decisions".
Further plans include a maximum increase in council tax and an end to free parking at park and rides.
Oxfordshire County Council aims to save £50m by 2017 in addition to the £119m of cuts it voted through in February 2011.
Ms Thewlis said: "You can't make cuts of this size and not impact on really important frontline services that older vulnerable people depend on to manage their day-to-day lives.
"This is a serious loss of funding to a really important service that did not need fat taking out of the system or inefficiencies reduced."
Council tax rise
Mr Hudspeth said deciding which services to cut had been a "very difficult process".
"Each area of the council means an awful lot to everybody in Oxfordshire and we've got to try and make a balanced approach," he said.
Council tax is to rise by 1.99%, the maximum increase allowed without triggering a county referendum.
Free parking will end at Thornhill and Water Eaton as it is "no longer sustainable". A charge of about £1.50 a day could generate an extra £1m over four years, it is hoped.
There will be cuts of £800,000 to 44 children's centres. None will close, with savings made through "back-office reorganisation".
Road maintenance will be cut by £1m between 2015 and 2017 and the council's Area Stewardship Fund will be scrapped from 2014, saving just over £1m.
The fund is for small-scale highway projects such as pedestrian crossings.
Mr Hudspeth said: "We've got to decide, is that nice to have or is that a necessity for people?
"What we try to do is always protect the front line for things that are really vital for people in Oxfordshire."
The adult care service budget before cuts is about £200m a year.
The changes are due to be officially voted on in February.