Roman Abramovich invests in Oxford Catalysts fuel firm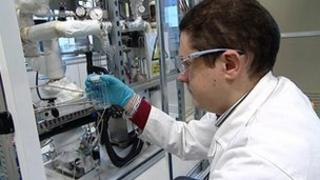 Chelsea Football Club owner Roman Abramovich has bought a stake in a company that develops ways of turning household waste into fuel.
Oxford Catalysts raised £30.6m by selling a 3% stake as share options. The Russian businessman invested £4.3m.
Neville Hargreaves, business development director, said: "We believe we've got mutual interests... and we look forward to working with him."
The system is to be used by British Airways to create fuel for its planes.
The GreenSky London project aims to supply renewable jet fuel made from London's household waste.
Oxford Catalysts, which is based near Milton, Oxfordshire, was formed from the Chemistry Department of Oxford University in 2004.
Mr Hargreaves said: "I think the investors see that we're on the cusp of commercialisation and have a unique technology which can have a big impact on a large market.
"We've estimated that there is enough gas to make as much liquid as about a third of the world's current oil production.
"In the case of Roman Abramovich, we'd describe him as a strategic investor... he's invested in a number of energy technologies."
Another major investor was fund manager Invesco with £10m.