Petition against Oxford stadium housing plan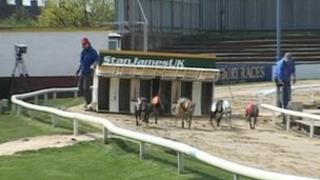 More than a thousand signatures have been collected against plans to turn a former greyhound stadium in Oxford into housing.
Oxford Stadium hosted its final race meeting at the end of December, 73 years after it opened.
Its owner, Greyhound Racing Association (GRA), wants to develop the site, in Sandy Lane, Cowley, for housing.
Oxford East MP Andrew Smith wants the GRA to sell the stadium to a buyer interested in reopening it.
'First-rate track'
The petition has been organised by campaign group Save Our Stadium, which is being supported by Mr Smith.
He said: "We've got more than 750 [signatures] online and several hundred paper copies which are ready to be submitted the minute a planning application comes in from the owners.
"I've been talking with people in the industry and... people do tell me it's a first-rate track, there are great facilities and, from a business point of view, the stadium is profitable.
"The petition calls on the city council and the county council to recognise the value of all the activities that have been going on at the stadium... and for the councils to refuse any development for housing and to work to attract an owner to the site who will operate it as a stadium.
"The ball is in the court of the present owners - they have to decide when to submit a planning application before anything very much is going to happen."
Oxford City Council has come out in favour of keeping the venue for leisure use while also supporting plans to bring back speedway, which was last held at the stadium in 2007.
The GRA has so far not responded requests for a comment.