Oxfordshire flood alerts removed by Environment Agency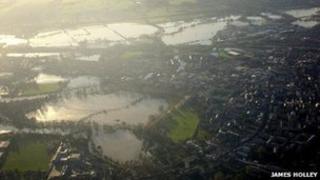 Flood alerts on Oxfordshire's rivers have been lifted as water levels continue to fall.
The Environment Agency (EA) has removed the alerts for the first time since the start of November.
As the waters recede the agency has issued a plea for members of the public to call them with any incidents of fish stranded by the falling water levels.
It thinks some may be washed up on riverbanks with water levels having fluctuated so much in recent weeks.
The EA warned of a continued risk of groundwater flooding in the south as the water table remained high despite the dry spell.
EA spokesman Joe Giacomelli said: "We welcome this dry spell, but it's very much a waiting game.
"The ground is saturated, any further rainfall could cause issues."
The agency estimates it will take two months for the ground to recover from the heavy rainfall.