Conman 'stole lives' of French aristocrats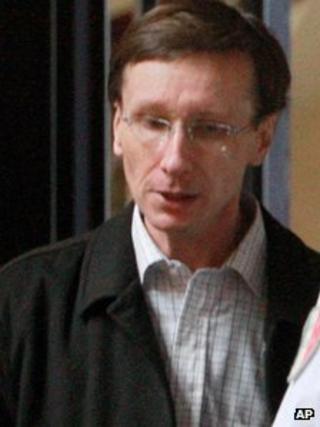 Members of a French aristocratic family have described how they were brainwashed by a conman, held a virtual prisoners in Oxford and now live in social housing after losing their chateau.
Christine and Charles-Henri de Vedrines were conned out of millions of euros after falling under the "hypnotic powers" of Thierry Tilly.
He was jailed for eight years for false imprisonment and abusing the weakness of psychologically vulnerable persons at a trial in Bordeaux in November.
Mr de Vedrines said: "He stole 10 years of our lives - but he did more than that, he destroyed everything on the way."
Speaking to BBC Inside Out, the couple who now live in social housing in south-west France, explained how Tilly infiltrated the family and became all-controlling after fooling them into believing they were victims of a plot by freemasons.
The de Vedrines had enjoyed an aristocratic lifestyle in their ancestral chateau, Monflanquin.
In the late 1990s their partying ended and they became reclusive when the family was infiltrated by Tilly.
At first he appeared as a friend.
Mr de Vedrines said: "At the beginning Tilly said he would look after our home, investments and trusts. We just wanted to protect them.
"We used professionals but he made us believe he was better than them."
He convinced Mr de Vedrines to sell the family chateau saying it was "too dangerous" for the family. They sold a total of seven properties for about five million euros and have not seen the proceeds.
'Thought of suicide'
The family's lawyer Daniel Picotin described complex brainwashing techniques Tilly employed - such as making family members spend days in darkened rooms with no clocks to lose sense of time.
He played family members off against each other - from the 16 year-old daughter, to the grandmother in her 80s.
"I compare it to a spider - he will bite and sting you to anaesthetise you. Once he's stung you he will wrap you up. Afterwards he sucks the blood out of you," Mr Picotin said.
"With his hypnotic powers he managed to partition people off and set them against each other."
In 2006, Tilly persuaded the family to move one-by-one to Oxford where they worked as gardeners, cooks and cleaners, with him taking most of their earnings.
The couple's son Amaury de Vedrines said: "All my money I gave to him. I couldn't buy a Mars bar, that was seen as theft from the family.
"I couldn't have friends and couldn't have girlfriends. We were really in our own world."
His controlling extended to what food they ate and Christine Vedrines was confined to her room in the rented house with only tea, bread and biscuits to eat when Tilly thought money was being concealed from him.
After two weeks, she was left with swelling on her legs making it difficult to walk.
"In Oxford I lost my spirit. - it was the first time I thought of suicide," she admitted.
She worked at a delicatessen in the city where her boss Robert Pouget was suspicious of Tilly when he met him.
"I immediately sensed this chap wasn't right - a drip-dry suit, cheap clothes. I thought this is not a big financier, this a spiv," he said.
He eventually helped smuggle Christine back to France with the help of her cousin, without the knowledge of her husband who was still under Tilly's control.
For Tilly it was the beginning of the end. Christine went to the authorities and Tilly was arrested in 2009.
Prosecutors accused him of being a liar and a fantasist. Explaining the verdict, the court said Tilly had created a state of submission among his victims, encouraging "group paranoia and mental destabilisation".
He is awaiting an appeal in April.
An accomplice, Jacques Gonzalez, was jailed for four years.
More on the de Vedrines' story on Inside Out BBC One South on Monday at 19:30 GMT. Watch afterwards on BBC iPlayer.