Cotswold Maternity Unit in Chipping Norton closure 'a disgrace'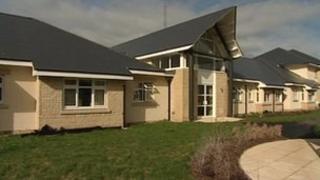 The ongoing closure of a maternity unit in Oxfordshire as part of an internal investigation is "a disgrace", a county councillor has said.
Chipping Norton's Cotswold Maternity Unit was shut in October while Oxford University NHS Trust reviewed "working practice" concerns.
Cllr Hilary Biles said she was "shocked" the unit has not reopened.
The Trust said it would present an interim report with its findings to the county council next week.
Cotswold is a midwife-led unit for women with low-risk pregnancies and is still open to antenatal and postnatal patients.
Jane Herve, Head of Midwifery for the Trust said: "We are committed to reopening the Cotswold Maternity Unit as soon as we are able to, but are not able to say yet exactly what date that will be."
She added the findings and recommendations will be presented to the Trust's board in "early March".
Mrs Biles said "lots of mothers" had approached her with "several concerns" at the temporary closure.
These include "wanting local midwives and not ones from Bicester and Banbury as they can't get there in time".
She added: "I can't see it reopening before 1 April which will mean it will have been closed for six months. It's a disgrace."
Thirty-two babies were born at the unit in the first six months of 2012, with one birth in September.