Banbury Station multi-storey car park approved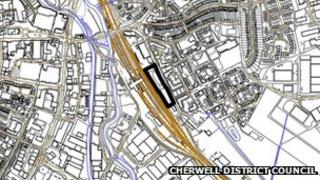 A new £10m multi-storey car park at an Oxfordshire railway station has been approved.
Cherwell District Council's planning committee discussed proposals for the 707-space site in Banbury on Thursday.
Banbury Town Council has criticised the plans, warning the site is "not suitable for a car park of this size".
Chiltern Railways said it was needed because the number of passengers using the station had doubled between 2003 and 2011.
The application includes plans for a pedestrian bridge with a ticket barrier, linking the car park to the eastern end of the station.
'Over-dominance'
A town council spokesman said: "Whilst Banbury Town Council recognises the need for additional [and] replacement parking at the station, this site is not suitable for a car park of this size.
"The amount of traffic it will generate through Bridge Street junction, which is already at capacity, and between this junction and Merton Street would cause traffic gridlock."
The Cherwell District Council planning committee document concluded that the planned development was "acceptable".
It stated: "The proposal is of a design, size and style that is appropriate and will not unduly impact on amenity, the character of the context of the area or highway safety."
Residents raised concerns about the "over-dominance" of the four-storey structure.
They also cited issues of potential noise, air pollution, increased traffic and a loss of privacy.
The project must be completed by March 2014, because of time limits placed on the Department for Transport's Stations Commercial Project Facility fund.