Didcot A Power Station switch off time announced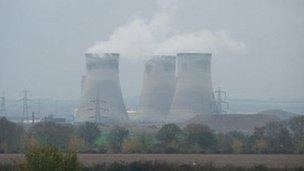 An energy company has announced the moment Oxfordshire's Didcot A Power Station is to be turned off.
RWE Supply & Trading has forecast the landmark will cease generating electricity at 14:00 GMT on 22 March.
Margaret Davis, leader of Didcot Town Council, said: "It's very precise information and it makes it real to all of us."
Greenpeace campaigner Ben Stewart, who climbed the towers in 2006, welcomed the news.
He said: "Power stations like Didcot emit the same CO2 per day as the 20 least polluting countries combined.
"This is part of that trajectory of moving to a low carbon electricity generating network, and the first step is to end coal burning."
Ms Davis called it an "incredible power system".
"We've got used to that friendly giant puffing out steam so it's a big change for us," she said.
Country Life readers voted the landmark Britain's third worst eyesore in 2003.
Andy Boddington, who has written a blog in praise of the cooling towers, admitted the closure was "good news".
He said: "It's polluting, it's contributing to climate change, and it's time we moved away from coal.
"But there's something about those towers that is just part of South Oxfordshire.
"I think it's a fantastic sight. They provide an aesthetic interruption to that clay vale."
The 2,000 megawatt (MW) coal-fired Didcot A plant began operating in 1970.
It opted out of the EU's Large Combustion Plant Directive, which is aimed at reducing emissions across Europe.
To comply, it was required to cease generation by the end of December 2015 at the latest, or once an allocated number of operational hours were completed.
The power station may still cease operations before 22 March if it reaches this allocated number earlier.
This could happen if there is a rise in power consumption due to unexpected cold weather.
Related Internet Links
The BBC is not responsible for the content of external sites.