Oxford cycle training offered free of charge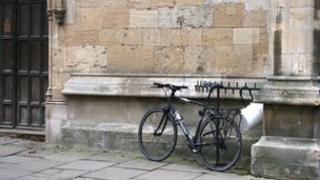 Oxford residents are being offered free cycle training to cope with the "challenging experience" of traversing its routes.
Oxford City Council and Oxfordshire County Council say they have teamed up to increase confidence on the road.
Councillor Colin Cook said the courses were "fantastic as they give people the confidence to cycle in Oxford which can be a challenging experience".
The training is said to be "ideal for nervous cyclists".
A city council spokesman said: "Depending on your previous experience you will learn to control and master your bike in an environment away from cars or traffic and then get out on the roads in real traffic situations in Oxford."
He promised a "real cycling experience so that you are able to deal with traffic on short journeys such as cycling to work".
Mr Cook, who is the board member for city development, added: "I hope people will take up these free courses and enjoy them."
The 2001 Census results show that 15% of journeys made to work in Oxford were by bike. This compares with less than 3% for the rest of the England and Wales.
The sessions take place between 19 March and 30 April.