South Leigh Village Hall gets £300,000 makeover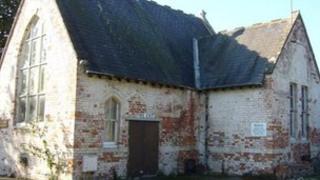 A "revolting" village hall in Oxfordshire is being refurbished after the raising of £300,000.
Residents of South Leigh have spent 20 years fundraising in attempt to save the crumbling Victorian premises.
Nicky Brookes, chair of South Leigh Parish Council, described it as "the sort of place where you put your coat on to go inside".
The project received several grants, including £75,000 from Waste Recycling Environmental Limited (Wren).
West Oxfordshire District Council gave £50,000 and Oxfordshire County Council £10,000.
Villagers also raised funds through pub quizzes, jumble sales, auctions, and the summer fete.
Restoration work on the dilapidated building, which served as a school in the 1890s, began on Monday.
Ms Brookes said: "It's been fairly revolting. The windows are very old and all rotten, the kitchen is mouldy and very damp and chilly.
"With the refurbished building we really hope it will give people somewhere they will take great pleasure in going to, and we can rebuild a supportive network for all villagers, whether they be young, old, or in the middle."