World Pooh Sticks Championship hit by high river levels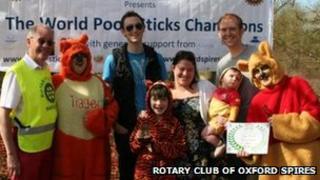 The World Pooh Sticks Championships have been cancelled because of high river levels on the Thames.
The Rotary Club of Oxford Spires said it had abandoned plans for Sunday's charity event at Day's Lock, Little Wittenham with "great regret".
An Environment Agency flood alert is in place for the stretch of the river.
The club said the river is "still too high and fast to have our safety boats on the river", but would try to hold the event later in the year.
The annual event, based on the game played by AA Milne's characters, began in 1984 as a fundraiser for the RNLI.
It regularly attracts more than 1,000 people and was voted "Britain's Favourite Quirky Event" by the readers of Countryfile magazine in 2012.