Abingdon County Hall lift veto criticised by disabled users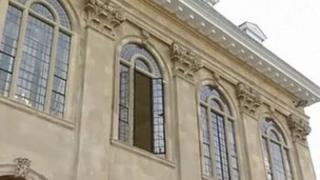 Disabled people in Oxfordshire have criticised a museum where plans to install a lift to the main gallery were rejected by English Heritage.
Abingdon's County Hall Museum, owned by the town council, has recently undergone a £3m refurbishment.
English Heritage insists an extension enabling a lift to the upper floor would have caused "substantial harm" to the Grade-II listed building.
Jack Fisher, 90, who has mobility issues, said he was angry.
"It is part of my heritage but I can't go in," said Mr Fisher.
"The lift would not have spoilt the building. It's wrong - why should my wife and I be treated differently in entering that building?"
Julie Mayhew-Archer, chair of the museum management committee, said its proposal for a glass and stone lift extension to the Sessions Hall as part of the refurbishment was rejected by English Heritage quite late in the planning process.
'Not catered for'
Through a guardianship agreement, English Heritage has a veto over any plans to alter the building.
Wheelchair-user Des Gunter said: "They spent a lot of money but they haven't catered for disabled people. It's a shame - I'd love to see what is in there but I can't."
In a statement, English Heritage said it favoured a "virtual experience" of a touch screen display of museum exhibits in the cellar which does have lift access.
It said many of the museum's exhibits on the upper floor were portable and not too precious to be handled so could be brought downstairs to anyone who wished to study them.
"English Heritage always works towards finding a solution to access and spent a lot of time on this case trying to find the optimum solution which would provide access to all the key elements," it said.
The museum is famous for a tradition dating back to 1761 involving currant buns being thrown from its roof to mark special occasions.