Margaret Thatcher's legacy at Somerville College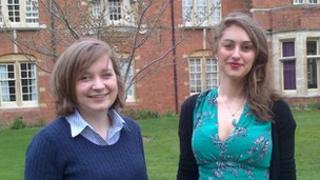 Somerville College offered a tranquil setting for the screening of the funeral of probably its most famous alumna.
The quad of Margaret Thatcher's former Oxford University college is lined with red brick Victorian buildings, with tulips and daffodils dotting the verdant lawns.
Inside the modern Flora Anderson building, a small congregation of students, academics, alumni and staff mill about with coffees and teas.
'All viewpoints'
It was never going to be big event as it is not term time, but up to 50 people sat down to watch the funeral procession on a large projector screen inside the hall.
Final year history student Rosa Schiller Crawhurst said it was "very appropriate" for Somerville to mark the funeral with the screening.
"It's not a political statement in my view," she said. "People watching it will have all kinds of viewpoints, and that's how the college would want it."
However the 21-year-old she would be watching the funeral "with a bit of scepticism".
"I think that given the financial state of the country, to be spending that amount of money on a figure who is already controversial enough is perhaps unwise," she added.
Second year Biological Sciences student Rebecca Watkins said that while Lady Thatcher certainly "doesn't permeate everyday life" at the college, she contributes to students' awareness that "Somerville is a platform for students to go on to do greater things".
'No feminist'
Somerville was set up in 1879 to further women's education and played its part in educating Britain's first female prime minister, so the idea of female empowerment was an inevitable discussion topic during the screening event.
"I wouldn't see her as a feminist in any sense," Miss Schiller Crawhurst said.
"And her influence on female liberation has been overstated in the last week."
But former student Katherine Innes Ker, who came to Somerville to study chemistry in 1979, said it was the indirect influence of Lady Thatcher that "had the effect of enabling women".
"Because of what she did it became easier for women," she said.
"The question of whether there should be a woman [in a particular role] is not a question anymore".
Ms Innes Ker, now an executive board director for a number of public companies, added Lady Thatcher was "someone we should be proud of".
Her own career in the business world has made her "appreciate even more how astonishing it was what Margaret Thatcher had to do in her time, because of the far greater prejudice she faced when she began her career in politics".
The college is planning a memorial event in the coming months and will be setting up another scholarship in Margaret Thatcher's name.