Didcot dig: Petition calls for history trail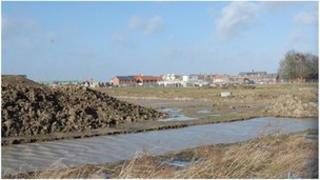 More than 300 people have signed a petition for a history trail on the site of a dig which found evidence of 9,000 years of human habitation.
Among the discoveries made by archaeologists west of Didcot in Oxfordshire was a rare and complete Neolithic bowl from about 3,600 BC.
The Didcot Dogmile group wants the sites of finds at the Great Western Park housing estate marked.
Karen Waggott said she hoped a trail would protect remaining archaeology.
"The 'feel' of the walk should reflect the site's archaeological and agricultural heritage," she explained.
"If designed well, it would attract interest and visitors, becoming an asset to Great Western Park and Didcot.
"The site is arguably the most significant Oxfordshire archaeology project in recent years.
"Its significance is not just in the individual finds and sites, but in the complete narrative it tells of 7000 years of continuous prehistory, which is why the walk idea fits so well - a walk through history.
"By showing the size, shape and locations of the features in meaningful settings, visitors will get a real sense of how human history has evolved from the first settlers after the ice age to the time of Roman rule and beyond."
Mrs Waggott, founder of the campaign group, said it had also suggested including a reconstruction of an Iron Age roundhouse.
Evidence of about 60 roundhouses were found on the 180-hectare site, where 3,300 new homes, schools and shops are currently being built.
Only 30 hectares were excavated, but discoveries range from worked flint dating back to back to around 7,000 BC, to a Roman farmstead, much of which is preserved under sports pitches.
Mrs Waggott said Didcot Town Council and Harwell Parish Council had shown a keen interest and were due to discuss the proposal at their meetings next month.